Therefore go and make disciples of all nations, baptizing them in the name of the Father and of the Son and of the Holy Spirit…  Matthew 28:19
Missionaries Financially Supported by New Faith Baptist Church
The Pythian Home for Children – Weatherford, Texas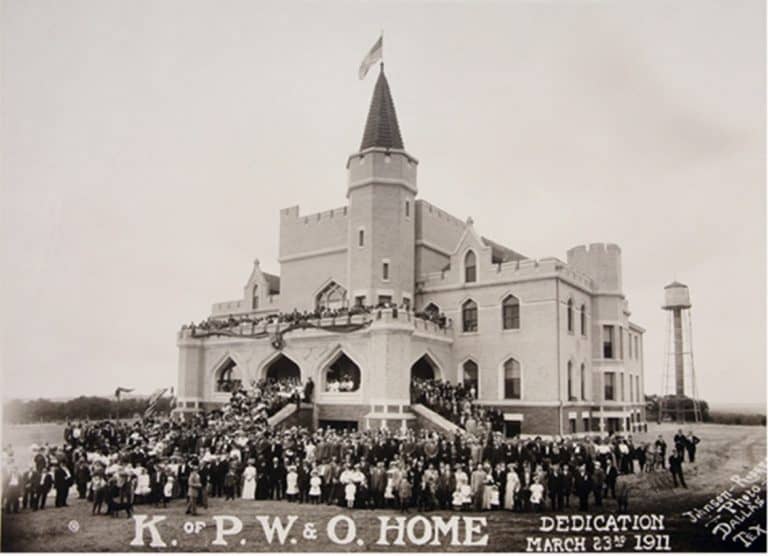 The Texas Pythian Home for children is called the 'Castle on the Hill'. It was built with the architecture style of a castle due to the sponsorship of the Knights of Pythias, a fraternal order established during the Civil War. The Pythians put their motto of Friendship, Charity and Benevolence into practice and established the Pythian Home in 1909. The Pythian Home is licensed by the Texas Department of Family & Protective Services as a basic child care facility for sixty-two children.
The Texas Pythian Home opened on March 1, 1909, as a home for widows and orphans of Knights of Pythias members. The Pythians made the decision to build the Home in Weatherford, Texas, due to the amount of land given as well as the support of the community. Three hundred acres were donated to the Pythians to build the castle-like structure.
The main building housed orphaned children on the second floor. The basement was divided into apartments for widows with children.  The administrative staff had their offices on the first floor. There were soon so many boys that it became necessary to build a boys only dorm. In 1914 all of the boys were moved into their new dorm and the orphaned girls moved to the basement. A girl's only dorm was built in 1925. In the early 70's widows no longer lived at the Pythian Home due to the completion of a retirement home for aged Pythians in Greenville, Texas.
The Pythian Home School was designated an independent school district on August 1, 1910, and continued until 1972. In 1937, the last High School graduating class walked across the Pythian auditorium stage. The decision was made to send grades 6-12 grade to Weatherford Independent School District. The 1st through 5th grades continued to have classes at the Pythian Home until 1972.
New Faith is blessed to have Lisa Watson, the Administrator of this legacy ministry, and her husband, Chris, as members of our church. Continue to pray for their support.
Alberto Aviles Family -Central Missions – Mexico
Alberto and Maria Aviles serve with the Central Missionary Clearinghouse in Jalisco, Mexico. The above image is from one of their Gospel Order Newsletter and pictures the Open Door Baptist Church in Lake Chapala.  Please pray for this important missionary work in Mexico.
Anthony Lucero – Philippines
Anthony Lucero, his wife, Edna, and son, Nathan, are missionaries to the Philippines.  Anthony is a 1997 graduate of Bible Baptist College in Cebu City, where they reside and have been leaders of East Side Baptist Church since 2019.  He is passionate about his work and we've seen tremendous results.  We bathe him in prayer and ask that you will, as well.  You can find his Facebook page at:
https://www.facebook.com/anthony.lucero.9047506
Gospel Radio Latin America – Fort Worth, Texas
James E. Denman and his wife, Carol, head up the 'Gospel Radio Latin America' ministry he founded in 1972.  It's a church oriented ministry through Covenant Life Baptist Church in Kennedale, Texas.  If you would also like to support 'GRLA,' here is the contact information:
P.O. Box 6641
Fort Worth, TX  76115
Phone (817) 293-0797
Cell (817) 996-9248
gospelradiola1@gmail.com   
Faith Hope Family Home – Weatherford, Texas
Toby and Holly Turner operate the wonderful 'Faith Hope Family Home' ministry.  You can see wonderful photos of the lives they are touching at:
https://faithhopefamilyhome.com/
Additional contact information:
Faith Hope Family Ministry
P.O. Box 2837
Weatherford, TX  76086
(817) 752-4422
fhfministry@gmail.com
Sarah Miller – Sozo Ministries – Uganda, Africa
Sarah has long been known by our pastor and multimedia director and both will tell you it'd be hard to find a more Spiritually-sound, loving, sold-out-Christian.  A true sweetheart of a woman, she has served as New Faith's 'Family Minister' (overseeing the nursery, children, and youth programs) and multiple stints in Uganda.  She is a teacher of children, a marvelous musician, and the daughter of Monica Dowd, our Sign Language Interpreter at New Faith.  (She also gets credit as the matchmaker for her mom and Monica's husband, Billy, our Music Ministry leader).